Jost Van Dyke (AKA the "funest" beach in the Caribbean) Is just a short 15 min boat ride on the Black Pearl to Great Harbor and White Bay. Let us explore the Small island while hagging out at the world-famous Foxys hideaway and soggy dollar beach bar in between games of bocci or beach Volleyball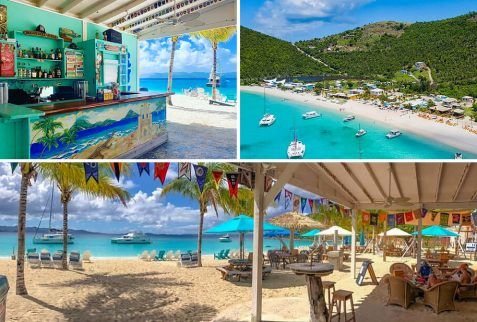 The Soggy Dollar Bar is arguably one of the most famous beach bars on the planet. Located in pristine White Bay on Jost Van Dyke, this is the most happening spot in all of the British Virgin Islands. There isn't a dock here, so guests must swim in after anchoring offshore ­ hence the name Soggy Dollar. The Soggy Dollar Bar has great lunch (only served until 3 p.m.) and is known as the home of the original Painkiller.
Foxy's has been serving food and strong rum drinks to sailors and visitors since 1968.
We serve lunch and dinner daily. On Friday and Saturday Nights we host our Famous Beach BBQ From Sunday to Thursday, we offer an a la carte menu.
Foxy's Taboo beach bar, it is a short 20 minute nature hike to the gorgeous natural coastal pool known as Bubbly Pool. You can choose the inland Coconut Trail filled with native flora or the route which heads off along the shore and past mangroves where you can watch pelicans diving into the surf. These two trails converge at the south side of the Salt Pond where a rocky goat trail then leads you through an area of sage bush and finally on to your destination.
In essence the Bubbly Pool is a beautiful shallow tide pool set behind cliffs known to the locals as Mother Nature's Jacuzzi. In the right conditions it won't take you long to figure out why it has been given this name but in reality this lovely little gem has many moods, with both tide times and sea swell dictating what kind of experience you will have when you get there. When a larger ocean swell is coming from the north –the direction the pool faces –you are going to feel as if the waves are coming straight at you. In fact these break against the lower rocks and cliff with only a small gap in the cliff-face allowing a jet-like entry of water into the pool which sets it all to fizzing and bubbling.